Southeast Asia offers a wide variety for the long-distance cruiser: settled weather, low costs, diverse cultures, and proximity to exotic Asia destinations such as Tibet, China, and Nepal. Unfortunately many speed through - intent on making the weather windows for the Red Sea or South Africa.
| | |
| --- | --- |
| Check out the Map to the right, pick a spot of interest or read on: | |
We sped through this country due to its ongoing political turmoil - perhaps unnecessarily since little of it was directed at foreigners. Our trip was during October-November,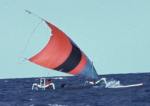 which is the transition period between the SW and NE monsoons; winds are predicted to be light and they were: we motored most of the time, logging 388 hours over a 2282 nautical mile trip. We never had a problem with piracy, unfriendly people, fishing boats approaching too close, or any of the other tales that abound. Read a little more about Indonesia.
This has been a wonderful surprise - a 1st world nation in the middle of a developing part of the world. We stayed 11 months and used it as a base to visit other countries in Asia such as Nepal and China. Others took trips to Vietnam, Cambodia, and Myanmar (Burma) - the ease of speaking English and reasonable airfares made this easy to do. Initially rules appeared to be vague and we had to visit Immigration 4 times in the first 2 months to extend our visas. Later, we discovered some of the secrets for staying, check out what we found out. See what else we found out about Singapore.
We were lucky enough to be able to fly to Nepal for 3 weeks and trek to the 18,000' peak of Goyko Ri - 2 weeks of living in tents and breathing crystal-clear air. Check out our Nepal page for the highlights.
Extended time in Singapore made it easy to hop a flight to this wonderful Asian destination. We traveled for a month, discovering that China is indeed an emerging giant, with modern facilities in the cities, a transportation system to rival any country, and warm and friendly people. Take a peek at our China page and details of this eye-opening trip.
We left Singapore for Malaysia at the end of October, 2001 and enjoyed three months of cruising through this pretty country. Governed by the British for many years, it has been independent since the 1950's. English use is widespread, and the few marinas along the coast collect the cruisers on their way to Thailand. Take a peek at what we have seen so far or check our Malaysia Warnings for information.
We stayed in Thailand for 10 months and really like the people. For 5 months at Phuket Boat Lagoon painters, carpenters, fiberglass technicians and welders worked on Long Passages - by the end she was all gussied up, and looking beautiful. Meanwhile, we worked on her, toured the country, and visited neighboring countries and enjoyed our time there. Look at our Thailand page for more on this beautiful and friendly Kingdom.
Not really a cruising destination, but it seems that ALL cruisers make the pilgrimage to Angkor Wat. We flew there for a week, and really enjoyed it. The people are nice (as virtually everywhere we have been), the palaces and sculptures at Angkor Wat are awe-inspiring, and Phnom Phen was interesting although a little seedy. Check our Cambodia page for more of our musings about this fascinating country.