Journal
Langkawi
Port Dickson
Sebana Cove
Contact Us
Poems
Site Map

Malaysia is a cruising destination for Australian and New Zealand yachties - sort of like the Caribbean is for the USA. Very nice people, interesting culture, and low costs make it ideal for the cruiser on a budget. For circumnavigators, it is a civilized spot for low-cost provisioning and sightseeing.
The Malacca Straits coast of Malaysia has a lot to offer the cruiser: low costs, sheltered waters, and marinas scattered along the coast at frequent intervals. Facilities range from the basic to downright decadent. We have collected information on:
Sebana Cove - a low-cost alternative to Singapore with easy access to the big smoke
Port Dickson - very sheltered marina with a great pool and nightly movies and easy access to Kuala Lampur
Port Kalang - a working port with anchorages and a cozy yacht club with moorings - and strong current!
Lumut - no information at the moment.
Penang - no marina at the moment, but a tolerable anchorage and interesting town
Langkawi - duty-free haven for liquor buyers, it has a couple of marinas and the best anchorges on the Malacca Straits.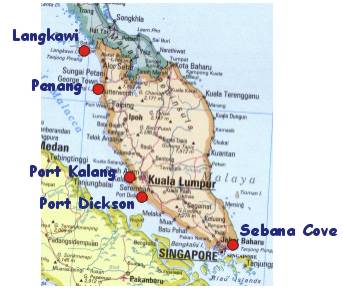 ...take a look at the map and the locations of these destinations:
| | |
| --- | --- |
| Country Code: | 60 |
| Time Zone: | +8 hours from UTC |
| Currency: | Ringgit |

Check In/Out Procedures - In Malaysia one should follow this procedure:
First port - Check in with Port Authority, Immigration and Customs.

Intermediate ports - Check in and out with Port Authority for that port.

Last port - Check out with Port Authority or Harbour Master, Customs and Immigration.
The locations of the authorities vary from city to city, but they are generally close to the port operations and can usually be reached by walking.