Journal

Contact Us
Poems
Site Map

Peeing Against The Wall - I guess it is a cultural thing, we still are slightly startled at seeing a local man or motorist peeing by the side of the road, or using unisex toilets where the urinals are out in the open or just inside the opened door - perhaps in another week it will be second nature...
Noirmutier -

Between Brest

and La Rochelle a finger

juts into the Atlantic, connected to the mainland by a bridge and a part-time causeway. We stayed on the island for 2 days, relaxing, exploring, and watching the end-of-season tourists - few as they were. In a big coincidence, Judi was reading "Coastliners" by Joanne Harris, a book picked up in England about a fictional island near to Noirmoutier - life imitates fiction! The causeway is still used today, although only at low tide since the signs clearly warn of the consequences of crossing at high tide. We stayed at a cute hotel on the northwest corner of the island and had a relaxing couple of days.
Wine Tasting Experiences - We bypassed La Rochelle and settled into the Gironde Estuary, two nights on the east shore and 1 night on west bank, or Medoc. This is Bordeaux country where the vines are heavy with grapes this time of year (harvest is 2-3 weeks away) and names like Medoc, St. Emilion, Lafite Rothchild, Cognac, and ... grace the road signs wherever you drive. We intended to taste 'til we dropped, but found that many wineries required reservations, or were closed on Sundays, or ... anyway, we had two contrasting experiences:
Chateau des Tourtes - A small, family-run operation where we had a delightful afternoon. One of the owners, Marie-Pierre spent an hour explaining their history, techniques, and plying us with small samples of five wines. It turns out that when her parents threatened to sell the winery, Marie-Pierre and her sister returned from the US and Canada, husbands in tow, and took over 8 years ago. We walked away with wonderful memories and a case of their excellent wine.
Chateau H Dubosco & Fils - This was a larger operation where the hostess served us an assortment of 4 wines, rushed us through a peek at the tanks, and garnered a 3-bottle order for her efforts. It was not nearly as personal, but the wines were still good.
Pre-History - All evidence points to the fact than man originated in Africa and spread across the Earth from there. Artwork and relics in Africa however only go back 4000-5000 years. However the limestone mountains of France and Spain provide weather-proof chambers that have preserved cave painting and artifacts for over 10,000 years. We visited a few sites in the Vezere valley:
Lascaux - In Lascaux, France a large cave has paintings of bulls, bison, deer, and reindeer and numerous other items, discovered only 60 years ago and in amazingly good condition. Most paintings have been reproduced in Lascaux II, a replica site designed to conserve the original cave. The paintings show an amazing amount of details considering that they were painted by the Cro-Magnon in the Stone Age - they have been dated to 15,000 years ago.
Le Thot - This art center has reproductions of two Lascaux paintings that were not included in Lascaux II, many artifacts and tools, and an excellent video that shows how a reindeer can be rendered into food, clothing, tools, and artwork using flint knives and other Stone Age tools.
L'Abri Pataud - At this site, Stone Age man found shelter under an overhanging cliff and lived there off and on from 32,000 to 18,000 years ago. As the roof gradually collapsed it created as many as 14 layers of debris creating a repository of bones, tools, and animal remains - thus providing a vivid picture of life during two ice ages and the intervening warm periods. The digs here continue and we could see tools and bones protruding from the rubble - a treasure trove for archeologists.

Canoeing on the Vezere - The Vezere river joins the Dordogne which then flows to Bordeaux to create the estuary mentioned above. Near Montignac it is peaceful, interrupted every mile or so by gentle rapids. We rented a canoe and enjoyed paddling downstream, past 18th century chateaus, under stone bridges, past relaxed fishermen, past Thonac to the town of St. Leon. - a perfect way to spend a lazy Sunday afternoon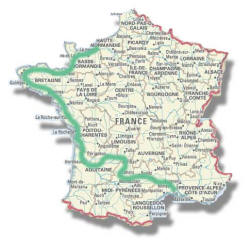 Touring The French Countryside - Now that we are 'homeless', we find ourselves moving from place to place, savoring the good ones and tolerating the mediocre ones. We have traveled in a circuit along the north coast of Brittany, down the west coast of Aquataine to the Vendee and now inland to the Dordogne. We planned to frequent B&B's to enjoy some 'local flavor' but often find that hotels are more convenient and easier to find. From a price standpoint, the B&Bs have been the best because they include breakfast for about the same price as the hotels for comparable facilities. Our experiences so far:
Hotel Kermoor - Basic beachside hotel in Plogoff along the Brittany coast. €75 for an ocean view and not much else.
Hotel Castel Regis - Delightful place with basic rooms, interesting ocean and town views, a wonderful sitting room/library. A great spot but a little pricey at €95/night.
Hotel Bord a Bord - Another water-view hotel on the tip of Noirmoutier. Our first night was in the basement, but the next 2 were on the top level with better views. At €72/night it seemed to be a normal price for a 2-star hotel.
B&B Aman Cara - One of our guide books recommended this 'English Spoken' B&B and it has been our best to date, although the English was heavily accented with Irish by our host John. Along with his wife Maria, they had restored a 19th century farmhouse to beyond its original glory, and the facilities, breakfast, and conversation were well worth the €60.
B&B Le Moulin - On to a B&B run by a French chef Jean-Claude and his wife Michelle, they also sported a restored country estate that cost €59. Facilities were a little more basic and hospitality not quite as good, but the dinner conversation with them and other guests was very enjoyable.
Hotel de le Grotte - In the heart of Montignac, this is a basic hotel with somewhat shabby facilities for a moderate €51 - serviceable for visiting the area and Lascaux II

Penthouse Living - We arrived in Millau late in the day, weary from driving and ready for a break. Most hotels were full, and the one with a vacancy only had a suite on the top floor, so we succumbed, and stayed two days, enjoying great views of the largest bridge in the world, wrap-around windows plus a balcony, and wireless internet access - of course all for a price! The Millau bridge is truly amazing, particularly for an engineer - it spans a valley approximately 4 miles wide from one mountain range to another and its modern white supports dwarf their surroundings!

Gorgeous Gorges de Tarn - After the flat lands of Bordeaux, and rolling hills of the Dordogne we were surprised to see the map predicted mountains and gorges ahead - and they lived up to expectations. Several National Parks cover thousands of acres with mountains, ravines, gorges, and rivers - a beautiful landscape. We spent the day driving slowly, stopping often, and taking lots of photos - as usual one could spend a week exploring each branch of this rugged area.
Catching up with John and Nancy -

After several email exchanges, we managed to converge with the path of John and Nancy, long-time friends from the US who are visiting France on a sightseeing and wine-tasting cruise on the Rhône. Arles was our selected rendezvous point, and as they recovered from jet-lag, we knocked on hotel doors, finding many 'COMPLEAT' signs due to the Rice Festival - who would have guessed! Finally we located a dumpy little place, with friendly staff and joined John and Nancy for a long meal and animated conversation long into the evening.
French Riviera - We headed south after enjoying the evening in Arles and set about exploring the French Riviera, world-renowned as playground to the rich and famous. Since we are neither, we started in modest hotels along the coast, first at Six Fours, and then at Le Lavandou. We continued to run into what has become a problem - hotels are full even though the peak holiday period is over and the children are back in school. In Le Lavandou we lucked into the Hotel Krill, a delightful place with a sea view, small balcony, and reserved seat to watch the nightly bocce games by the French visitors to this cute resort town - and to boot, it was modestly priced. So far the coast has been pleasant, not over-built like Spain's southern coast - we'll see how it is as we get closer to Cannes, St. Tropez, Nice, and Monaco next week.
Vagabonds along the Riviera - One of our challenges is to find a waterfront hotel, modestly priced along the Cote d'Azur. My thought was that if you did not have a sea view then there was no reason to pay for a hotel on the sea. As you can imagine this was a somewhat task difficult in this area. After stopping at several hotels to find them either full, outrageously priced or, in one case just a room with no toilet, we stopped at a restaurant that was advertising a few rooms. The barman said they did have a room with a sea-view, but it would not be ready until 7pm - would we like to see it? We thought this a bit odd and wondered if the room was one that was "rented by the hour," so to speak. But by now we were tired of looking to so decided see what it was like. Up 2 flights of stairs to a shabby looking room with unmade bed and untidy bathroom, BUT it had a small balcony with a great view of a gorgeous beach and boules courts and we could have it for €60. Bob walked into the room, wrinkled his nose and I walked out onto the balcony - that was all it took - I said we'll take it. Then the barman now said the room would be ready in 1 hour - we don't know what happened, but when we returned the room was clean and tidy. As we sat in our small disheveled little room, we felt like the characters in the opera, La Boehme who were very poor, but had a great room.
St. Tropez -

Used to be a small fishing village until Roger Vadim filmed 'And God Created Women' with Bridget Bardot. It still is a small village, but the fishing boats have been pushed aside and now ostentatious and grandiose megayachts line the small harbor. This is the playground of the rich and famous and we just missed a few celebs such as Jack Nicholson and Steven Segal. Bob was eager to get here to see if any BB look-alikes were hanging around and I was eager to shop (really window-shop) at the posh designer shops. No cheap rooms here, but we did manage to find a lovely room about 2Ks out of town that looked out into the bay that was not TOO expensive. So we booked in for 3 nights. No celebs were seen, but plenty of huge yachts and their rich owners and wives/girlfriends. The last night we had drinks on a small balcony looking out over the harbor with another cruising couple who had their boat anchored out in the bay and we were wishing that LP was out there too. St. Tropez is still a lovely little place that seems to have accepted its new persona and still remain a charming place. I can understand why it is so popular with everyone - rich and the not so rich.
Cannes - We

followed the coastal road

and ended up in Cannes just as the Cannes boat show was opening. Amazingly a parking space opened up right along the beach road, so we pulled in to see if any celebrities from the film festival might have returned to attend t

he boat show. As we walked along the beach promenade, we passed many luxurious hotels (€650+ per night) and an incredible sand sculpture.
The boat show looked like many others, especially the Annapolis show, but with one big difference - many more huge yachts and a RED carpet all along the walkway leading up to the entrance. Annapolis take note!
Nice - Keep the movies 'Chevy Chase European Vacation' and 'Mission Impossible' in mind when reading this story. We finally pulled ourselves away from Cannes - no celebs spotted - and headed for Nice. It was getting late and again we had no accommodation booked, so about 5 miles out of the city we started looking for a nice, cheap beachfront hotel. No luck this time, so when we found a 2-star high-rise hotel that had WiFi and satellite TV, we said yes. Tired and wet - it was now raining - we lugged our 2 bags and 2 computers up 4 flights of steps and collapsed. I turned down the air-con while Bob made a beer run. We decided to sit out on the balcony which overlooked our car, relax and have a nice drink, so we sat down and I closed the sliding door to keep in the cool air. All went well until we decided to return to the room - the door had locked shut! There was no one around, but we could see into the kitchen with chefs speaking French busily running around. We shouted to no avail. My plan was to have Bob hang from the balcony and drop down balcony by balcony until the ground when a car pulled into the car park. We waited patiently for the lone occupant to step out and then started shouting to attract his attention. He looked up and started to quickly scamper away from these loonies when he realized our predicament. In what we hoped was the correct French we told him our room number and asked him to have the receptionist come and rescue us. We waited what seemed forever when the door opened and we were free. You can imagine how we felt. To top it all, there was no Wifi - "it has just gone down" and the satellite TV - "Oh no monsieur - it is too expensive"!
Monaco and Monte Carlo - One of the reasons to visit Nice was so we could travel by train to Monaco (we thought it would be a bit tacky to drive up to the Casino in Monte Carlo in a 12-year old Ford Escort.) We found a cute hotel set back from the beach drive, changed into our best duds - for Bob that meant a blue blazer, khaki trousers, blue shirt and shiny black loafers. For me - I just decided to dress all in black. So outfitted in what we hoped looked like James Bond and one of the 'Bond girls.' we left for the train. On the way, we decided to stop for lunch at KFC - we might have been a tad overdressed.

We arrived early afternoon in

Monaco and walked around the yacht harbor and then Bob went to see some of the Prince's vintage cars at the museum while I looked in some of the stores. What I was really looking for were some shoes, since mine we killing me having not worn them for some years, but no luck. So while I hobbled along, we made our way over to Monte Carlo and the really posh part of town. WOW! This is what we came to see - lots of Ferraris, Aston Martins, Bentleys, Jaguars, some vintage Triumphs and MGs.
This is definitely where the beautiful people hang out as we saw lots of designer-dressed men and women. We sat down among them at the

Cafe de Paris trying to

blend in and look cool, and had one of the most expensive beers we have ever had. It did come with olives and macadamia nuts though. Our cool cover was blown when I pulled out a camera and started snapping pictures of everything. Later on we decided to actually try our luck at the famous Monte Carlo Casino. This place is truly like a palace, gold gilt and frescos everywhere. We wandered from room to room watching the high rollers play roulette - 25€ minimum and blackjack 25€ and 200€! minimum and then we headed for the slot machine room (yes they do have these) and proceeded to lose 30€. We topped off the night back at the

Cafe de Paris for dinner. My feet had now gone numb so Bob decided we should take a taxi back to the train station, so at about 2230, after a fabulous day, we tried to flag down a cab. At 2315 we were still waiting I was started to feel a bit like Cinderella and that my coach was going to turn into a pumpkin, as the last train to Nice left at midnight. Finally we got our taxi and arrived at the station 4 minutes before the train was to leave. Running and hobbling along we got on with 1 minute to spare. If we had missed the train, Bob's plan was to sleep in the station - mine was to take off my shoes and go back and party!!
2 Weeks ending 30 Sep 06 (Bob)


Saint-Raphaël - Our last few days along the French Riviera were quite relaxing as we hung out for a couple of days in Saint-Raphaël and Frejus le Plaje (just down the coast from Saint Tropez), another small resort town with clean beaches, a bocce court for the locals, and an ocean-view room for us. Prices had started to come down, parking was free, and the crowds were thinning as the end of season descended on the coast. We walked, bought watercolor paintings from an artist, enjoyed the French cuisine (actually Italian and Asian - we never did find a good French cassoulet). Despite not finding what we considered to be authentic French Provence cooking, all restaurants provided well prepared meals at reasonable prices.


Crossing the Pyrenees - The short route to Spain hugs the coast and the only breathtaking part of it are the tolls, so we decided to head inland and climb the mountains. This time we avoided Andorra but managed to see pretty valleys and rivers as we crossed this mountain range for the third time in our travels in Europe. The mountains were covered in pine with small villages nestled in the bends of narrow gorges. We stopped for lunch and later when Judi brought out the serious camera to capture close-ups of flowers and butterflies.
Can We Come Home Yet? - Several times in early September we called our marina in Palma and asked them: "When can we be put back into the water? - Finally Cati told us "Show up next week and we will figure out something". So, we decided to end our wandering ways and head back towards Barcelona and ...
Another Ferry Crossing - We found out that the ferry from Barcelona to Mallorca cost the same as from Valencia (and saved us 500 Km) so Barcelona became our new destination. When Denis crossed to Spain in June he took the low cost approach on ISCOMAR while we stuck with the known approach and used Transmediterranea, at twice the price. This time we followed Denis' lead and booked on ISCOMAR - at half the price and very good seating in the front row of the lounge. The food was cheap and abysmal, but since it was an overnight crossing we really didn't care - we would use them again. We arrived at daybreak, headed for the marina and found ...
Cooling our heels on the hard - No room at the Inn! Despite promises, no openings materialized when we checked with Cati on our arrival. So our daily pattern evolved into walks to the office to check for an open berth, performing beautification projects aboard, and long walks to the 'facilities' for showers and the rest. Finally, after a 10-day wait, Cati told us a slip was freeing up over the weekend so we rushed to paint the prop and get ready for ...
Launch - On 2 October we were lowered into the water again and we carefully backed into a snug berth with easy access for us and the broker, who has brought the occasional prospect by for a viewing. We are very happy to be back in the water - floating feels good as we count down to our shipping day sometime in November.