[Innovation] [Solutions] [Large Items] [Problem Items] [Information Storage]
"A place for everything and everything in its place"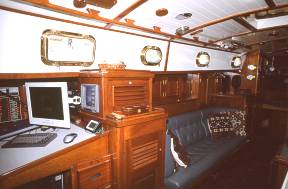 The above quote by Isabella Mary Beeton, written in her book, The Book of Household Management, in 1861, most certainly applies to boats and is the motto we try to abide by on Long Passages.
Listed below are some common and uncommon items that are usually found on cruiser's boats and how we solved some of the storage problems encountered on a 38' boat - one that is considerably smaller than most cruising boats today. You may be surprised at some of the unusual items for which you may have to find "homes".


Innovation
Details
Containerize
Place like items in one or more container(s), usually plastic. You lose some storage space, but we have found that it makes life much easier. See Galley Tips for examples.
Find Hidden Spaces

See diagram on boat changes page.

We searched, and found:
-Nooks behind drawers - built partitions to hold provisions
-Crannies under lockers - cut access holes and lined areas to keep dry
-Unused space behind foul weather gear - install helves and stow tools
-Empty space in engine compartment - stow spare belts, impellers for ready access
-Inaccessible space in galley - cut access hole on counter top, cover with Corian lid.
-Space between drop-leaves of Captain's table - built holder for liquor bottles.
Match items to Spaces
Windvane paddles stowed flat in hanging locker, off-shore harnesses hanging from locker door,
Build Storage unit
In Thailand we had a storage box built to stow shoes and trash - items we had struggled with for years. It occupies unused space near the companionway.
Pockets on cockpit weather clothes
Pockets on the inside hold sunscreen, winch handles, sun-shades and flashlights
Items
Cu ft.
Solution
Boat Maintenance Items
2
Varnish, paint, Cetol, brushes, sandpaper, polish rags. Most of these items are stored in a medium, square TupperwareTM container in the starboard cockpit locker. The container is rugged and waterproof and contains the mess if a container leaks.
Books and magazines
Truly a problem for us as we both love books and subscribe to a couple of cruising magazines.
3
Once a book or magazine is read, we trade it or give it away immediately. The rule on our boat is that if we want to keep a book, we must find a permanent home for it on the boat or give up a book that we already have onboard. We have a couple of permanent book storage areas on Long Passages and 2 teak magazine containers - one in the "reading room" (head) and one in the main saloon.

Charts

3-4
We have over 300 charts and nautical publications onboard. The charts have been organized by region of the world and placed in large plastic bags made for charts - 1 bag for each region. These bags and the other publications are stored in a locker built specifically for them on the port side of the main saloon.
Clothing

Tropical & swimwear
Passages & boatyard chore clothing
Dress, casual
Cold weather clothes
Foul weather

24
We rotate our clothes depending on the season or climate. In the tropics, our warmer voyaging clothes, sweaters, scarves, hats, gloves, etc. are placed in 'vacuum bags' and stowed in the back of our hanging lockers and vice versa in the colder climates/season. Foul weather gear stored in small, cramped wet locker.
Laundry
3
We have struggled with where to put the laundry for years. We now place it a small locker in the V-berth area - not the best option.
Linens
3
This is how we minimize bulk of linens:

small terry hand towels for bathing & 2 larger terry towels
warm, feather duvet which can be stuffed in small bag
thin lightweight blankets

Luggage, backpacks
2-3
Vacuum pack in plastic bags. Frames are hard to stow.

Paperwork, checkbooks, etc.

2

Keep current info in boxes scan and archive rest on CDs

Photography and Video
4
a dedicated locker
Sewing machine and supplies
2

machine stored in V-berth locker forward
supplies stored in plastic container in back of hanging locker

Tools (hand and power)

3-4

Small tool drawer under Nav table for frequently used tools.
Woodworking tools in 2 plastic 'tackle' boxes
Large tools in tool box
Power tools stored in shelf built in back of hanging locker

Trash Container
2
Built storage container to occupy unused space near companionway
Item
Problem
Our Solution
Notes
Cockpit cushions
2 cu ft. and rigid
stow in V-berth while on passages
Dinghy and accessories
6 cu ft of dinghy, oars, pump, light, anchor, tow-lines
dinghy tied on deck, rest in cockpit locker; oars in dacron bag

Dock lines

6 lines - total approx. 200'
cockpit locker stuffed into corners and lining the bottom
Extra sails
8 cu ft.
most in cockpit locker, lightweight drifter moves about
have reduced spare sails from 4 to 2

Fenders

6 total 6 cu ft.
tie on coach-roof
can be deflated
Fishing pole and tackle
6' long
pole under shelf
tackle in 1 box
GaleRider drogue and line
3 cu ft
lockers under V-berth
12 Jerry containers for fuel and water
wanted fuel for 300 miles of motoring in Indian O. and Red Sea; water for 10 days in an emergency
2 in cockpit locker, 4 tied down in V-berth, rest on deck
will reduce fuel reserve for Med and Atlantic
Liferaft
Big and heavy
Special built cradle on deck
prefer to stow in locker in cockpit
Outboard (or 2), fuel and hose
big and volatile
engine on rail, fuel on deck
prefer fuel to be in vapor-proof locker
Scuba Gear
2 tanks and 2 bags of gear
1 tank by pedestal, 1 in locker buoyancy vests and regulators in dry locker forward
keep gear dry if possible
Sea anchor and line
5 cu ft.
lockers under V-berth
Christmas Decorations

Judi could not bear to have Christmas onboard without some decorations. So, following our philosophy for always finding a permanent home for things we found an out-of-the-way storage area under the starboard settee and in the RADAR cabinet for these items.
Computer equipment and supplies
Almost all cruising boats have at least 1 computer. It is a challenge to find a dry place for the computer, peripherals and supplies. We have Pelican waterproof cases for offshore storage or carrying in the dinghy.
We built a special locker for our 'navigation' computer which folds up against the bulkhead in order to protect it from splashes that could potentially come down the companionway. We then installed a flat screen monitor, use a wireless mouse and keyboard. See pictures on the Boat Changes page.
Kept in standard computer bag and used when we are at anchor or in a marina.

Printer, paper, print cartridges
Scanner

Built into a cabinet along the port side of the main salon. All supplies are stored along side the printer.
Film (40 rolls)
Should be refrigerated in tropics; slide film hard to find many places so we carry a supply with us.
Medicines
Most prescription medicines should be refrigerated.
Shoes

Boat
Flip-flops, sandals
Hiking Boots
Street or Dress

Sandals and the like are placed in a canvas bag when boarding boat. The bag is placed below in the quarter berth when underway.
Hiking shoes in bottom respective hanging lockers
All other shoes go in the back compartment of wooden box that we had built in Thailand. The front compartment holds a rubbish container.
| | |
| --- | --- |
| Databases | We have created several MSAccess databases to store crucial information regarding the boat, contacts, expenses, item inventory, food inventory and location. If you choose to create similar databases, it is EXTREMELY important do perform regular backups to your data. |
| | Contains addresses, phone numbers and email addresses about friends, family, and companies and our daily expenses. |
| | Food items, quantity and storage location. |
| | Information on charts and other publications such as Sailing Directions, Cruising Guides, Light Lists, etc. that we have onboard. |
| | This is our most important database containing technical and location information about everything we have onboard and in our storage locker in the US. |
| | Documents maintenance activities performed on Long Passages. |
| CDs | We have several CDs with cruising guides, SSCA guides, old scanned financial records and computer backups. |
| Scanned Documents | Instead of filing bills, forms, receipts, warranties, social correspondence, Christmas cards, etc. we scan many of them and store them in softcopy, printing them out if required. |