Journal
Bali - Indonesia
Nongsa Point
Contact Us
Poems
Site Map

Indonesia is a destination that evokes mixed feelings - fear of piracy mixed with visions of Bali as a fabled destination - it has a lot to offer the adventurous cruiser.
Cruisers coming to Indonesia generally approach from the East, either from Papua New Guinea to the nor'east or from Australia to the southeast. Centrally located is Benoa harbor on the southeast corner of Bali. At the west many cruisers stop in Nongsa Point on Batam. Many islands offer well-protected anchorages. Check out our Indonesia Warnings for the latest info.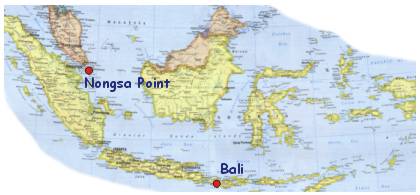 | | |
| --- | --- |
| Country Code: | 62 |
| Time Zone: | +7 hours from UTC |
| Currency: | Rupiah |
Check In/Out
Procedures -

The staff at the Bali International Marina will handle the check-in and check-out at no cost, if you purchased your CAIT through them. If you got your CAIT elsewhere, the fee was approximately $US30.

Give them your paper-work when you arrive, and the day before you leave, and they take care of everything.

It is possible to do the check-in/out yourself; we do not know then procedures.