Australia, with its huge landmass and friendly people is very inviting for a long visit; most cruising destinations are along the East and Southeast coasts.
Cruisers coming to Australia generally approach from the North and East, either from New Zealand or the Pacific islands of Melanesia. From New Zealand, Sydney is a logical landfall, but we have no current information about Sydney. From New Caledonia, Solomon Islands, Fiji and Vanuatu the logical choices are the many ports of entry along the northeast coast. The options include:
Brisbane Area - the port of entry is at Scarborough and marinas exist within the city center, Manly to the south and Mooloolaba to the north.
Bundaberg - port of entry with a couple of marinas and pile moorings on the river near town center - no info at moment.
Gladstone - port of entry and marinas - no info at moment
Mackay - 15'-18' tides, no info at moment
Bowen - no info at moment
Townsville - port of entry and several marinas - no info at moment
Cairns - port of entry and several marinas - no info at moment
Port Douglas - port of entry and several marinas - no info at moment
Thursday Island - port of entry and control harbor for the Torres Straits; several anchorages
Weipa - no info at moment
Gove - no info at moment
Darwin - port of entry with 20-24' tides, several marinas behind locks and a couple of inconvenient anchorages.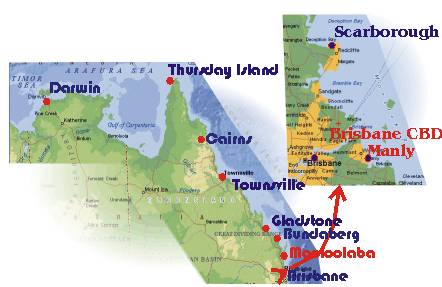 ...take a look at the map: provided is destination information for Brisbane, Scarborough, Mooloolaba, Cairns, Darwin as well as coastal anchorages from the Great Barrier Reef to the Top End, ports of entry are shown in blue and others are in red!
| | |
| --- | --- |
| Country Code: | 61 |
| Time Zone: | +10 hours from UTC |
| Currency: | Australian Dollar |
Check-In Procedures - The following procedures applied when we checked into Brisbane in Nov. 1998.
Notify Australia Customs of your impending arrival into Australia on Ch. 16 as soon as communication is possible You will need to provide the following information:

The name of the boat
Your intended port of call
Your last port of call
Number of people on board
Details of any illness or disease
Details of any animals on board
Estimated time of arrival

Once close to the harbor, call again. They will direct you to the Customs dock You MUST stay on board.
The Immigration, Customs and Ministry of Agriculture and Fisheries (MAF) officials will visit your boat, usually in this order. Until check in is complete, no person should leave the boat.
The MAF official, although very nice, will probably confiscate all your fresh fruits, vegetables, meats and some canned and dairy goods. He will also remove your trash. You can usually get a complete list of prohibited items from any Australian High Commission prior to entry.
Once this is complete, you are free to move the yacht into a slip, if you have one reserved or if one is available; otherwise you can then move to another location in the area.
If you move to another location later, you must notify customs of you intended destination. This can be done at the time of check in or by phone later on.
Cruising the Australian Coast Procedures -
Before leaving the current area for other parts of Australia, you must notify Customs and obtain a cruising permit (free) to cruise the coast either north or south.
When stopping at any other port of entry (eg. Gladstone, Townsville, etc.), you must again notify Customs of your arrival in their port. This can be done by phone or VHF radio after you arrive. There should be no visit or paperwork, they just want to know that you are there. No need to call them when leaving the port.
Check Out Procedures -
In order to expedite your departure, it is best to visit Customs a day prior to your leaving Australia in order to schedule your checkout time and to obtain a certificate for duty-free fuel. (If leaving from Darwin, the Customs office provides both immigration and customs clearance and is located on Lindsey St. in the city. When you visit, bring passports of all crew as they will want to make copies.)
On the day of departure, immigration and customs will visit the boat and stamp passports and issue your departure papers.
If you have any duty-free items to be delivered, they must be delivered or be on board the boat for the customs officer to see.
Refund of GST - Unfortunately, the Australian government does not issue GST refunds to yacht masters or crew as the rules now only cater for those tourists who leave by plane or cruise ship. They are looking into how to changes these rules.