Journal

Contact Us
Poems
Site Map

With 4 groups of islands (Marquesas, Tuamotus, Australs, and Societies), this French colony provides a playground in the Pacific as well as a nuclear testing area.
The easternmost islands are high with volcanic 'plugs' rising above the rugged hills, covered in rich foliage, few tourists, and a comfortable life for the natives due to French subsidies. We landed at Ua Pou, in the middle of the chain and later moved to Nuka Hiva, to the north.
Takaroa in the Tuamotus
This 5-mile diameter atoll is one of the popular stops in the Tuamotus a collection of about 50 between the Marquesas and Tahiti.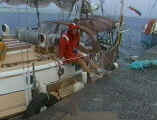 The atolls are only a few meters above the sea, palm-fringed and often inhabited by pearl farmers. We enjoyed dinner with a Polynesian woman, educated in Martinique who seeded the oysters to create the beautiful South Pacific black pearls. At 5AM, at the main dock, a front with 35 knot winds smashed us against the dock causing a lot of damage - we fought for several hours to avoid further damage as locals collected old tires to protect us from the concrete. 3 days later it eased, and we sailed for the fabled island of Tahiti.

The cultural and administrative center of French Polynesia, Tahiti is as beautiful as it's reputation, although Papeete, the capital, is busy and crowded. Being tied to the quay in Papeete gave us the opportunity to get fresh baguettes each morning, mingle with the locals, shop, and eat at 'les trucks' or Lou Pescadu's each evening. A driving tour of the island showed that the interior was mostly uninhabited rain forest.

This small island, with Club Med and many other resorts also serves as a 'bedroom community' for Papeete - a short ferry ride away. We encountered a French couple we had met in the Caribbean - and shared lunch at their home as they celebrated their new teaching assignments on Moorea. Small world! It, like all Polynesian islands, has a good supply of churches, and the one to the right must be one of its most photgraphed!

Two islands, surrounded by a common reef, provided wonderfully sheltered sailing waters - often we could see canoes being paddled by Polynesians at the edge of the reef as a storm approached from the West. Raitea has a year-round marina with haul-out facilities to leave a yacht during the cyclone season. Many who did in 1999 suffered damage when a rare cyclone hit this part of the Pacific.

The name Bora Bora probably evokes an image of the South Pacific more than any other - and with good reason. A figure-8 shaped island with a protective reef all around, it provided us with a very sheltered spot for more than a week. A bicycle ride around the island gave us a peek up close - gun emplacements on the hills where the Allies intended to defend against an invasion, white sandy beaches of another Club Med, and more. The snorkeling in the lagoon was great, bright fish, wary octopus, moray eels, and seas rays which would take food from your hand. A year there would have been too short.

We diverted briefly to Easter Island and then sailed to American Samoa