Journal
Auckland - City
Auckland North Shore
Whangaparaoa
Whangarei
Contact Us
Poems
Site Map

New Zealand is a popular stopover on most cruiser's trips across the Pacific - we liked it so much we stayed and became citizens.
Cruisers coming to New Zealand from French Polynesia, Tonga, or Australia generally approach the north end of the North Island and make their landfall along one of the entry ports on the east coast. The options are: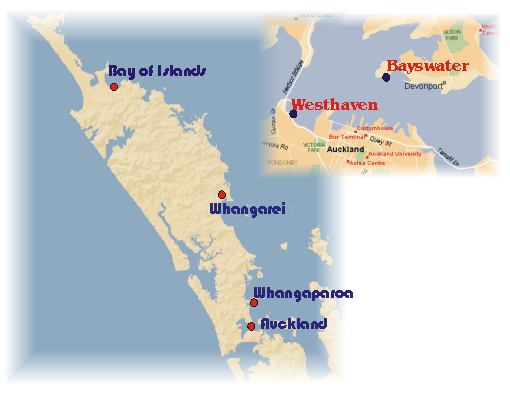 ...take a look at the map and start exploring!
| | |
| --- | --- |
| Country Code: | 64 |
| Time Zone: | +12 hours from UTC |
| Currency: | New Zealand Dollar |
Check In/Out
Check-In Procedures - The following procedures applied when we checked into Opua, Bay of Islands.
MAF Quarantine: www.quarantine.govt.nz
Customs: www.customs.govt.nz
Temporary Import Form - All foreign yachts entering New Zealand fill in a temporary import form. The duty for the yacht is assessed and the amount declared on the form. This form can be used to have the payment of GST on marine-related purchases exempted. You must leave New Zealand within 12 months for this exemption to apply and to avoid paying duty on the yacht. If you have purchased GST-exempt marine items, the customs officer may ask to see these items installed on the yacht before allowing you to leave the country.
Check Out Procedures -
In order to expedite your departure, visit or notify Customs 24 hours prior to your leaving New Zealand in order to schedule your checkout time and to obtain a certificate for duty-free fuel.
On the day of departure, immigration and customs will visit the boat and stamp passports and issue your departure papers.
If you have any duty-free items to be delivered, they must be delivered or be on board the boat for the customs officer to see.
In some cases GST paid on items bought in NZ or imported into NZ will be refunded by Customs when you leave the country. Pursue this with Customs (some officials said it couldn't be done) until you determine the exact process. We obtained refunds for GST paid on $US4000 of equipment ordered from the US by persevering.