Journal
Antalya
Marmaris
Orhaniye
Contact Us
Poems
Site Map

Turkey was our first destination in the Mediterranean and a wonderful surprise. We fell in love with the azure waters and dramatic mountain scenery of the coast, the friendly people and rich culture of this country.
Overview:
The Mediterranean coast of Turkey is called the "Turkish Riviera" for good reason with many secluded anchorages, beautiful towns, many ruins (some even in the anchorages), fabulous bazaars and quaint cafes and restaurants catering to cruisers.
Check-In Ports - The following are some of the more popular ports in which to check in/out of Turkey along the Mediterranean and Aegean coasts.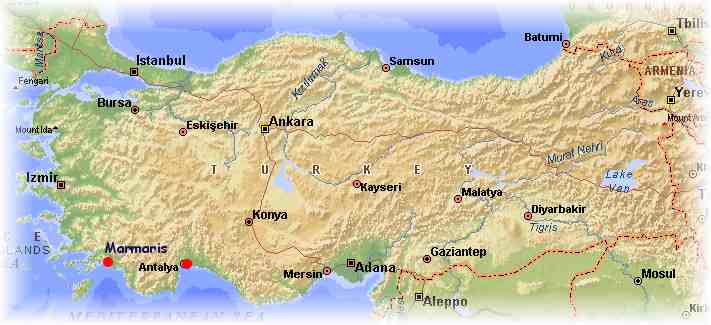 Aegean
Mediterranean
General Information

| | |
| --- | --- |
| Country Code: | 90 |
| Time Zone: | +2 hours from UTC |
| Currency: | New (Yeni) Turkish Lira |
Check In/Out
Procedures (as of 2003)
Check-In - These are the procedures we followed in 2003 to follow to check into Turkey.
Check-out - These are the procedures that you follow to check out.